Badges
Our reward system is in the form of badges and certificates and is for distance or a national Level of achievement from Swim England. Below are the range of badges that our students work towards. For information about our lessons click on the lessons tab.
Duckling Awards
Duckling awards are designed to help toddlers enjoy learning to swim. They are designed to help toddlers enjoy learning to swim with help from the teachers. With Duckling Awards your child can work towards four different colourful Awards. Each Award has its own certificate and badge.
Duckling 1 will see children start to move by themselves in the water. By Duckling 4 they will be jumping in, going underwater, floating and travel 10 metres without support.
Duckling Awards are great at promoting increased independence and water confidence.
Rainbow Stroke Awards
Covering distances of between five and 100m, the Rainbow Stroke Distance Awards complement Stages 1-7 of the ASA Learn to Swim Framework.
The Rainbow Stroke Distance Awards offer swimmers a further challenge after they have attained the Rainbow Distance Awards.
Covering front crawl, breaststroke, backstroke and butterfly at 5, 10, 15, 20, 25, 50 and 100m, the awards have been graded to offer your child achievable steps to help develop technique while having fun.
Learn to Swim badges
The Learn to Swim Stage 1-7 Awards are divided into progressive stages. They make up the core, national syllabus of learning to swim for primary school aged children.
They are designed to reward your child for their development of the essential aquatic skills they need to be confident, competent and safe in the water.
Each of the Learn to Swim Stage 1-7 Awards has a list of clear outcomes that need to be completed in order to gain each Award.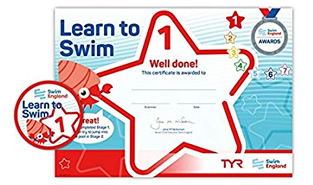 Swimming Challenge Awards
The Swimming Challenge Awards are for young people working towards Stages 8-10 of the ASA Learn to Swim Framework, with Bronze, Silver, Gold and Honours Awards available.
Your children will be challenged to develop a wide range of skills and stamina in order to achieve the awards, with a focus on good stroke style. It doesn't have to comply with ASA law but strokes must be co-ordinated, smooth and efficient.
Rookie Lifeguard badges
If your children are budding lifeguards, then the Rookie Lifeguard Award developed by the Royal Lifesaving Society UK in conjunction with the ASA, should be just what you are looking for.
As well as offering parents the comfort of knowing their children are aware of the dangers of swimming in open water, the Bronze, Silver and Gold stage awards ensure children have a solid safety education, and have learned rescue and resuscitation techniques.
Each stage is sub-divided into three levels and each stage runs roughly for eight to 10 weeks. Your children can enter a course at any point during the stage and progress at his or her own speed.